Product Description
 Desview T3 Teleprompter










Desview T3 Teleprompter: 2021 Upgraded Version





Desview T3 has all the same features of Desview T2, but instead of 26-layer coating glass, 2 cold shoe mounts on its top and up to 40mm retractable base, holding all prompting devices up to 11"(no matter tablets or phone) and wide-angle lens up to 24mm.
You could attach any microphone, led light or other camera accessories on its top easily if you need them.
Excellent Choice for Filming & Recording if your prompting device is iPad size.




how to choose? Desview T3 vs Desview T2





If your Tablet is over 8": Desview T3 > Desview T2
If you haven't prepared any L-shaped mount or video rig to attach any video & photo accessories like microphone or light: Desview T3 > Desview T2
If your Tablet is under 8": Desview T3 = Desview T2



























































11999under 11"under 8"26-layer coatingNoneTwoOne✓✓49mm/52mm/55mm/58mm/62mm/67mm/72mm/77mm/82mm49mm/52mm/55mm/58mm/62mm/67mm/72mm/77mm/82mm✓X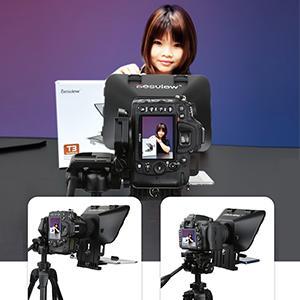 Cameara Recording, Support Various Shooting Ways

Vertical shooting supports tik tok and other video app, horizontal/vertical shooting supports interviews, online educations and KOL programs.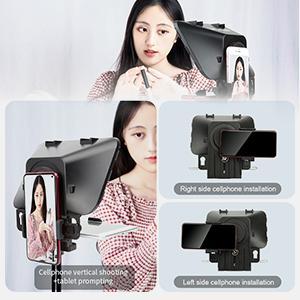 Cellphone Live streaming solution

Rich application scenarios, suitable for live sale, online educations and other live events. Supports vertical and horizontal shot of cellphone.

















































Retractable Base, flexible and Simple

Adopt the design of retractable base, and the base can be adjusted up and down. To effectively avoid the appearance of bracket and prompting device when vertical shooting.





Exclusive Prompting APP

Equipped with exclusive prompting APP, supporting cellphone and tablet, download, compatible with Android & IOS systems.

(Android user search ''BESTVIEW'' in Google Play to download, IOS user search ''BESTVIEW'' in App Store to download )





Support 11 inches Tablet Prompting

Max 19cm width four-section retractable cellphone&tablet clamp can support 11 inches tablet as teleprompter device.


















































Wider Angle, Bigger View

DSLR&Tablet prompting mode supports more than 24mm horizontal/ shooting and less than 35mm vertical shooting.

Adopts 49-82mm camera rings, make connection of DSLR and teleprompter very tight.





Two Cold Shoe Mounts, Ectended Application

There are two cold shoe mounts on the top of the teleprompter to extend to install the microphone,

fill lights, phone stand and other auxiliary sooting devices.





Selected Coating Beam Spilt Glass

26-layer coating glass after tempering, 7H hardness, excellent transmissivity and reflection effect,

keep clear and good imaging, improve shooting efficiency


















































Cellphone shooting EVA

Equipped with four shooting EVA makes shooting more efficient.





Various Camera Rings

Adopts 49-82mm camera rings, make connection of DSLR and teleprompter very tight





Package contents





1*Remote controller(not included the battery)
1*Cellphone shooting clamp
49/52/55/58/62/67/72/77/82mm Rings